'Rent' Live Review: The Best and Worst of Fox's Musical as It Happens – (The Highs and Lows of Rent: Live)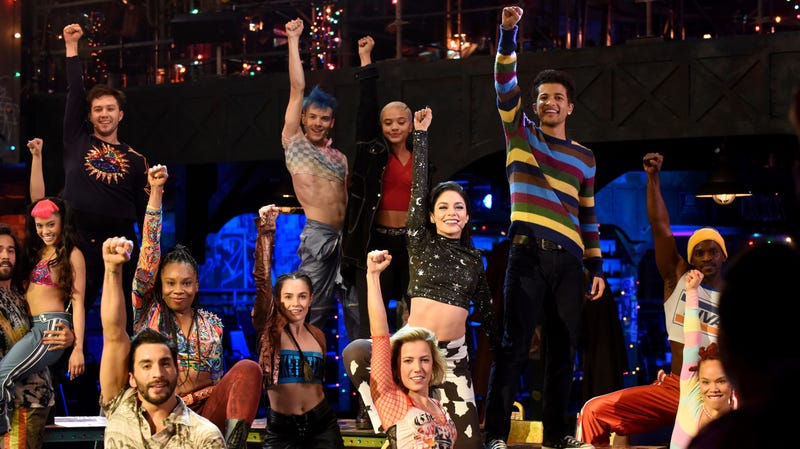 If my Twitter feed is any indication, tonight's broadcast was a massive Rorschach Test in terms of what people want from a live TV musical. To some, the idea of watching a non-live Rent: Live ruined the entire point of the production. Others assumed that watching a dress rehearsal would automatically mean watching a second tier performance. Personally, I've never been super tied into the "live" aspect of these live musicals, especially given how abstract that concept is when you're watching from home. (If Fox had lied and pretended its dress rehearsal footage was a live feed, I certainly never would've known the difference.) And it's not my experience that dress rehearsals are always lackluster performances. It's definitely possible that some actors would've given better performances tonight than the gave last night, but the reverse could also be true as well.
January 27th, 8pm, Eastern Standard Time, from here on in Rent: Liveshoots without a script. Of the eight live musicals that have now aired on NBC and Fox, Rent is the first one to experience a last minute disaster that totally derailed its production plans. News broke just a few hours before the show was set to air that Roger actor Brennin Hunt had broken his foot at the previous night's dress rehearsal and that Fox was scrambling to figure out how to modify a live musical with no understudies. In the end, the production went with the back-up plan that was always in place as a worst-case-scenario option: Air the previous night's dress rehearsal (which was also filmed in front of a live audience) as the main performance. As the cast popped in to inform us during the first commercial break, the show must go on even when the show doesn't actually go on. To salvage some of the fun of a live musical event, Rent: Livecut to a live feed for its last 15 minutes, which included a final performance of "Seasons Of Love" featuring the show's original Broadway cast.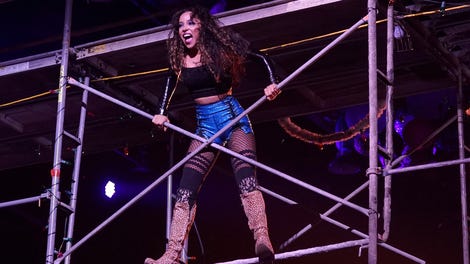 I do feel really, really bad for the cast, who spent weeks preparing for a live broadcast and then had nowhere to put that energy but a 15-minute finale. But I don't particularly feel like I was cheated out of a unique experience. The problems that did plague the broadcast—shoddy sound mixing, ill-timed audience reactions, imperfect vocal performances, awkward camera work—have been inherent to all of these live musicals, even the much-beloved Jesus Christ Superstar Live! so I can't really blame those on dress rehearsal imperfections. While there will presumably be plenty of reviews out there happy to snark on Rent: Live's lack of preparedness and lack of understudies, that's not this review. I come to praise Rent: Live, not to bury it.
Rent: Live To Tape did what these live musicals are supposed to do—reimagine a beloved musical with a new aesthetic, new performers, and new staging choices. Unlike Fox's impressive but overly familiar production of Grease, Rent: Live didn't pull its visuals solely from the Broadway production or from the aggressively mediocre 2005 movie adaptation, although it nodded to both.Instead, Rent: Live served as another parry in the ongoing Fox vs. NBC live musical battle, a battle that has made both networks continually step up their game. NBC pioneered the format with The Sound Of Music Live!, Fox revolutionized it with its expansive staging of Grease, and NBC countered with its own innovative concert staging of Jesus Christ Superstar. Rent heavily cribs from the latter, throwing out the 360-degree realism of Grease and Fox's A Christmas Story Live!for something more abstract.

Production designer Jason Sherwood created a multi-staged, multi-leveled, scaffolding-filled New York City-inspired playground (which just happened to feature a literal playground too) for the night's action to unfold upon. It's a fantastic bit of design, one the camera tried and failed to take full advantage of in some ambitious but sloppy tracking and wide shots. In general, it felt like Michael Greif's compelling theatrical staging was largely underserved by Alex Rudzinski's muddled TV direction. And while you could blame that on dress rehearsal flaws, I had the exact same critique of Rudzinski's camera work on Jesus Christ Superstar Live! too. Even with a whole day to focus on just the final 15 minutes, Rudzinski struggled to get good shots of all the original Broadway cast members in the finale.
Given that just about all of these live musicals have had issues with their camera work, however, I can't say it felt especially glaring here. It helps that, like Jesus Christ Superstar, Rent is a largely sung-through rock opera, which allowed the show to keep barreling through even the strangest camera choices and audience reaction moments. (The cheering for Roger's high note during Mimi's death scene felt especially egregious.)
One of my big questions going into tonight's production was how Rent: Livewould update its R-rated source material for network TV, but I'm actually far more impressed by what the production kept ("Sodomy, it's between god and me") than what it cut (the word "dildo," for some reason). In fact, I'm not sure I've ever experienced more shock and awe during one of these live musicals than the moment I realized we were actually getting a full performance of "Contact," the sexual anthem I thought for sure would be the first thing to be cut. Indeed, rather than cut any songs entirely, Rent: Live instead just made lots of small, internal cuts to shorten the show's runtime, which—while somewhat jarring for obsessive Rentheads (R.I.P. to the lengthy food order from "La Vie Boheme")—were likely imperceptible to more casual fans. Unfortunately, the choice to rush through the show's few dialogue scenes was less seamless.
As Harvey Fierstein did in adapating The Wizfor NBC, writer Kristoffer Diaz also seizes the opportunity to make some small yet impactful updates to Jonathan Larson's beloved but flawed source material. Diaz's smartest choice is to explicitly make this version of Rent a period piece set across 1991 and 1992. Rent is a very dated show, and it works better when you embrace that rather than try to present it as timeless social commentary. This production even goes so far as to insert some extra historical context about the AIDS crisis of the 1980s and early 1990s. Elsewhere, Diaz gives Angel a little bit more focus in terms of her identity and activism. And he also gives some of the show's clunkier lines ("think twice before you pooh-pooh it") an update too.
As is usual for these live musicals, the cast was a real mixed bag. As soulful musician Roger, former X-Factor contestant Brennin Hunt brought strong pipes but not much acting range. RuPaul's Drag Race star Valentina struggled with her vocals and presence in what should be a scene-stealing role as Angel. And singer Tinashe started off strong as Mimi before losing some oomph and vocal power as the night went on. Thankfully, there were some pros around to pick up the slack. Though I was one of the few people not totally won over by his Judas in Jesus Christ Superstar, I absolutely adored Broadway vet Brandon Victor Dixon's take on Collins. The show always felt like it was in a safe pair of hands when he was onstage, which was also the case with Kiersey Clemons as Joanne and Vanessa Hudgens as Maureen—two performers who were definitely not phoning in their dress rehearsal performances. Hudgens, in particular, has become a real master of this live TV musical artform.

The highlight of the night, however, was Jordan Fisher as Mark. Having already demonstrated his gorgeous pipes in Grease: Live, this time around Fisher got to show off his wildly impressive dance and movement abilities. The playful, exuberant physicality of his Mark immediately set Fisher apart from any other performer I've seen in the role. Fisher was also able to imbue some welcome pathos into his performance, particularly in the second half of the show.
In the end, Rent: Live was an imperfect but heartfelt production of an imperfect but heartfelt show. Perhaps it drew some new viewers into the Rent fandom, but I suspect that more so than most of these live musicals, this one was for the musical's pre-existing fans. Rent is a show that's uniquely important to young theater kids, one with flaws that become more apparent the older you get. But—for this nostalgic Rent fan, at least—it was awfully hard to remain cynical during that big final celebration featuring all of the original cast singing alongside their younger counterparts.
Rent: Live isn't the definitive version of Rent, but I don't think it set out to be either. Fox's version of Rent is—to quote David S. Pumpkins—"it's own thing." This live production can now stand alongside the original Broadway production, the 2005 movie, the countless regional and college productions, and the infinite versions of the show that exist inside the minds of everyone who's listened to the cast recording—all of which make up the mythos that is Rent. Part of loving Rent is being a part of the community that loves Rent. Despite its production snafus, Fox brought that community together for a night. I, for one, was happy to spend a couple of hours back in a world where everything is Rent.
Rent: Live star Brennin Hunt broke his foot during Saturday's dress rehearsal. Photo: Fox
When live TV musicals go well, they can be fantastic. When things go awry, like when one of your leads injures himself in the dress rehearsal and can no longer run up and down all the stairs on the set, things get bumpier. Fox's Rent: Live had its good spots, including Brandon Michael Dixon's performance of "I'll Cover You [Reprise]," Vanessa Hudgens as Maureen, and the show's generally thoughtful set. It made some divisive choices (see: Hot Mark). But the production's legacy will always be that it was not live. Except for the final 15 minutes (which were great!), itwas all footage of the pre-taped dress rehearsal performance from the previous day. It showed. Much of the energy was weird and lackluster, and the not-quite-live aspect of the production became a damper on the whole thing. When you spend the night watching tape from yesterday, Rent's claim that there's no day like today becomes a little toomeaningful.
Low: Beginning the show with the words "Previously recorded"
Rent: Live's Roger, Brennin Hunt, broke his foot in dress rehearsal Saturday night, and Fox had not contracted an understudy. Instead of embracing the chaotic energy of a true live show, Fox decided to air a taped version of the dress rehearsal until the final sequence, giving us what felt like a decidedly low-energy version of Rent: 'Live,' while still performing what looked like a far-more-interesting version of the show for the people actually in the audience, where Hunt was in a wheelchair. —Jackson McHenry
High: Brennin Hunt
It's hard enough to step into the role of Roger, the angsty, guitar strummer made famous by the great Adam Pascal. It's really hard when you broke your damn foot. Even though we didn't get to see it, as noted above, Hunt performed the entire show for the live audience in a wheelchair, which makes him the Dave Grohl of live network musicals, even if we didn't technically get to see it. So props for that, and props for his performance in the pre-recorded version, too, where he achieved more than just one song's worth of glory. —Jen ChaneyGet unlimited access to Vulture and everything else New York.LEARN MORE »
Low: Frenetic camera work
We know the camera work in Grease: Live was cool, but we don't need Rent with the camera spinning around for no reason, especially in the musical's quieter scenes. Just let Mimi linger on death's door without making the event feel like it was filmed by a gnat with a camera. —JM
Low: Valentina's vocals on "Today for You, Tomorrow for Me"
Valentina brought great energy and spirit to the production, but his vocals were not as strong as they could have been, especially since Angel tends to have one of the strongest voices in the show. You could hear the strain on the high notes right out of the gate on this number. —JC
Low: Unnecessary subs for lines like "poo poo it"
Theymanaged to fit in a lot of words you might not expect to hear on Fox during primetime — including "masturbation," "lezzies," and even "ACT Up" — but also went for a lot of odd lyric changes, including cutting several "fucks" as well as "poo poo it," "dildos," and (as the 2005 movie sadly did) mention of the Clit Club before "Take Me or Leave Me." Like the East Village itself, this version has been hella gentrified. —JM
High: "The Tango Maureen"
This was the first truly great number of the night, IMO. Jordan Fisher as Mark and Kiersey Clemons as Joanne executed the choreography seamlessly in a duet that only soars when the two actors are in synch with each other. Fisher and Clemons definitely were. —JC
High: Thoughtful, evocative props
Whenever the camera stopped moving long enough, you could appreciate some lovely, meaningful props on the very full stage. Art by Keith Haring (who died of AIDS-related complications in 1990), copies of the Village Voice, a very plausible-looking answering machine, and every single object in Maureen's Elsie performance. As noted on Twitter, even some of the posters spoke to Jonathan Larson's legacy. —Kathryn VanArendonk
Low: The sound mix
Live television is hard, but it's especially hard to forgive messy sound mixing on a tape-delayed performance! —KV
High: "Will I"
Although the camera swirled around everyone like a mouse trapped on a turntable, the big chorus moments were strong enough to combat the dizziness. "Will I" was the first number where everyone was on the same page and you thought, "Oh right, this is Rent!" —KV
High: Vanessa! Hudgens!
For so much of the production, Fox's Rent felt like the dress rehearsal it was, lackluster energy, with everyone palpably aware that this wasn't meant to be the realthing. And then, like an angel from on high dressed in cow-print pants, Vanessa Hudgens arrived as Maureen and instantly upped the ante for the rest of the cast. It's not ideal that the intentionally dumb, humorous performance art was one of the most magnetic moments in the show, but Hudgens' charisma cannot be denied. —KV
High: "La Vie Boheme"
This is one of the most joyful songs in the show, and the joy and infectious chaos was all there. Plus, there was tons of bumping and grinding, and same-sex kissing, and "mucho masturbation," and "sodomy, it's between God and me," and a spirited "to S&M!" I can't wait to hear the commentators on Fox's sister station, Fox News — "Sisters? They're close" — going off on tirades about it all tomorrow. —JC
Low: Mark was too hot!
If Mark was supposed to be this hot, JC Chasez would've played him on Broadway. Look, I am not complaining that Jordan Fisher was on my TV screen for three hours. Mark can be played by a hot actor, but, in that case, he should be styled so the audience knows he's not hot. Like, did his iconically bad sweater need a glow up? A nose ring?!?! How's he going to be buried in a Jewish cemetery? Speaking of, it's obvious why they cut out the line about him being unable to hold an erection during the high holidays. Hot Mark fucks five hundred twenty-five thousand six hundred minutes a year. The least he could've done is sing like a nerd! Let's do it all again. Ben Platt comes back to play Mark. And Jordan Fisher can play, I don't know, a version of Roger who moves very carefully. —Jesse David Fox
High: Jordan Fisher
Sorry Jesse, but I actually appreciated Fisher's performance as Mark. It's true, he wasn't nerdy and didn't necessarily seem like a true bohemian. But his talent and charisma were such a force that I enjoyed him anyway. I mean, did you hear how he jumped eight octaves on the "Dear old mom and dad" in "La Vie Boheme"? —JC
Low: How they staged "Seasons of Love"
I may not be no big city theater director [pulls suspenders], but this one's supposed to be easy. Cast walks from backstage to the front of the stage. They sing the song and look at each other nicely. I'd call it "Brechtian," if I knew what that meant. They even do it in the movie and it's a movie! That's because you want to be able to focus on the song: the lyrics, the melodies. It plays like an impassioned plea directly to the audience. It demands your attention. But staged how they did it on Rent: Live, where the lines are sung like dialogue, makes the whole thing seem hokey. And that sucks. Just imagine in an ideal world, if they did it the normal way, with Mimi rolling Roger in on a wheelchair? (You don't even have to imagine!) —JDF
High: "I'll Cover You [Reprise]"
There are just some songs you really don't want them to mess up and, with the cast all suffering from Small Dress Rehearsal Energy all first act, I kept on thinking about this moment. Then, after the inartful change to the iconic staging of "Seasons of Love," I started actively dreading it. "I'll Cover You [Reprise]," a.k.a. the part of the show that literally the entire theater cries during, is the real deal. It is musical theater at the height of its emotional powers. I would've turned it off at the first notice that they weren't in it. (I know this is a lot of build up.)
Then Brandon Victor Dixon started singing and you forgot this wasn't live. You forgot you have seen this scene before and you've heard hundreds of times. It felt like it was happening for the first time. At one point, Tinashe wipes her face she's crying so much and you can tell that wasn't an in-character tear wipe. She just had a front-row seat to something really special. It was as beautiful and devastating as the song can be. And maybe the highest compliment I can give it is from now on when I want to listen to this song — because I want to just be 100% feelings — I will Google this version. It was the highlight of the show. —JDF
High: "What You Own"
As songs from Rent go, I've always thought this one is wildly underappreciated. Hunt and Fisher did the shared harmonies justice and the staging brought the two of them together and let the number hit its crescendo perfectly. Plus, this song is about not selling out, which is a concept that everyone stopped caring about post-1990s and therefore, it is extra-precious to hear it now. —JC
High: When it finally went live … 15 minutes before the end of the night
There's no better proof of the difference between a taped dress rehearsal and a live production than the instant energy shift that happened for the final scenes, when Fox at last cut to the live stage performance. Brennin Hunt, with a medical boot visible on his foot, sat propped on a table, and there was one inadvertently funny moment where Maureen explained they couldn't get Mimi up the stairs and Roger had to shout, "NO!" while uselessly stranded in the middle of the stage. In spite of that awkwardness, the performances in the live scenes were significantly stronger than the pre-taped footage. —KV
High: When the original cast joined the Fox cast
At the end, everyone from the original cast sang "Seasons of Love" with the Fox crew, and it was so adorable I promptly forgot about my frustration with much of the previous three hours. Idina! Anthony Rapp! Adam Pascal! Jesse L. Martin hugging Brandon Michael Dixon! (Jesse L. Martin's hat!) This is the thing about live musical theater: one fully sincere, teary-eyed final number and you are powerless to resist. —KV