Players' union Fifpro calls for immediate inquiry
Mystery substances said to have been given by club doctors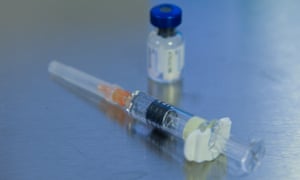 Three footballers have been forced to quit the game after mysterious injections, says Fifpro.
Photograph: Lukas Coch/AAP
Fifpro has called for an urgent inquiry into medical treatment given to players at several top-tier clubs in Cyprus.
The demand from the world footballers' union follows reports in the Cypriot media that at least four clubs have been giving injections of unidentified substances to players, three of whom have been forced to retire with serious heart problems.
In a statement, the union said: "Because of concerns there is a link between the unidentified substances and the serious heart condition of the three players, Fifpro is calling for football authorities to help identify what was administered to them and to establish if their teammates are in danger."
The Fiver: sign up and get our daily football email.
Fifpro said it has written to the Cyprus Football Association, the Cyprus Sports Organisation and Uefa to express its concern and ask for immediate assistance.
The union, which represents more than 60,000 players worldwide, added that it believes the substances have been administered by club doctors to aid recovery and it has been going on since the start of last season.
The three footballers who have quit football on medical advice are being supported by Fifpro and the Cypriot players' union but there are concerns about those who have left the clubs in question to continue their careers elsewhere, including some who have moved abroad.